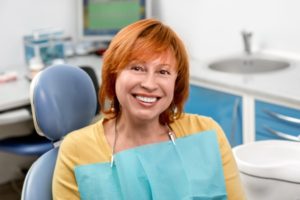 There are plenty of conditions that warrant an oral surgery. While no one looks forward to surgery, in some cases, surgery is the sole means of ensuring optimal oral health. You will receive a detailed treatment plan prior to your oral surgery. The dentist will discuss anesthesia options to ensure you feel no discomfort or as little as possible during the procedure.
After performing the surgery, you will have to pass through a period of recovery. Many of these procedures require the use of painkillers following the surgery in order to alleviate recovery-related lingering pain. So do not plan on driving yourself home from your oral surgery.
Next…
Arden Dental Associates – Carlos Campodonico, DDS takes a look at some of the different types of oral surgery procedures.
Oral Surgery for Dental Implants
Dental implant surgery is becoming more popular with each passing day. This procedure involves the replacement of teeth with a surgically implanted metal post. This post connects directly to the jaw bone through a process referred to as osseointegration.
This connection serves as a formidable foundation upon which abutments and crowns are placed to resemble real teeth. Indeed, once your dental implants are in place, people will find it difficult to tell you to have artificial teeth. This is the perfect oral surgery option for those who have lost several teeth.
Impacted Wisdom Teeth
The wisdom teeth, or third molars, are the final teeth to fully form in the mouth. In many cases, these teeth do not completely erupt or end up with alignment problems. These issues cause the jaw, bone and gums to impact the teeth, consequently affecting the health of nearby teeth.
Tooth Extraction
The extraction of teeth is the most common form of oral surgery. Some teeth are beyond saving with a root canal or any other dental procedure. If the nerve within the tooth is dead and the tooth is decaying, the dentist will discuss the option of tooth extraction with you and explain the many different options for replacement.
Oral Surgery for Jaw Problems
Oral surgeries have proven successful for an array of jaw-related injuries and diseases. For example, oral surgery can remedy unequal jaw growth. Surgery can position part or all of the upper or lower jaw or both in order to enhance functionality, health and balance. If someone ignores unusual growth in the jaw, it can lead to issues with swallowing, eating and breathing. In instances of jaw growth failure, oral surgery might prove to be the only viable solution.
Biopsy
Oral surgery is often performed for biopsies in an effort to detect cancer. When a dentist has concerns about a tumor, he or she will likely recommend such a biopsy. This procedure removes a portion of the tissue. Tissue samples will then go in for testing. Oral surgery is also necessary to combat certain lesions that medication cannot eliminate.
So..
For more information or to schedule an oral surgery consultation with Arden Dental Associates – Carlos Campodonico, DDS, request an appointment in our Blaine dental office here: https://www.ardendentalassoc.com. Or call us at (763) 237-3371.
---
Related Posts
July 14, 2021
Looking for information on oral surgery? If you are currently in need of a simple surgical procedure in order to improve your dental health, then learning more about the different types of …
---