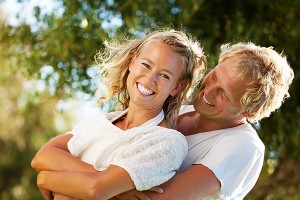 We are a modern dentist office that uses the latest in dental technology to help our patients look and feel their very best. As a cosmetic dentist, Carlos Campodonico, DDS in Blaine, MN knows that many of our patients come in looking for a way to improve their smile. One of the best ways we can help you to achieve this is through teeth whitening. With the modern improvements that have been made, teeth whitening can be done in one treatment. One-day teeth whitening has become extremely popular because it is a fast, effective, and often cost-efficient way to get a brighter, whiter smile. For most people who have stains or discolored teeth, a teeth whitening treatment at Arden Dental Associates can make a world of difference. Given that it is a short process, it's highly recommended as an excellent place to start improving your smile.
Same day teeth whitening, as performed by our 55449 cosmetic dentist office, uses a very scientific approach to teeth whitening. Teeth get discolored when they are stained by external substances, age, and even disease. Here is how it works: Teeth are actually translucent, which allows them to refract light at an angle the brain perceives as pure white. Stains and discoloration bend the light a different way. In order to restore the teeth to their natural whiteness, Carlos Campodonico, DDS puts a teeth whitening solution into special whitening trays. These allow the solution to be placed over teeth and have the most amount of contact between the solution and the tooth enamel. The peroxide-based solution is absorbed into the teeth enamel, where it releases free radicals in the enamel. These free radicals cause the tooth to revert to its natural state, which is translucent and thus, white.
Teeth whitening has grown both in popularity and in the number of ways you can get your teeth whitening done. Here at Arden Dental Associates with Dr. Carlos Campodonico, DDS, we are a huge advocate for a single- or same-day teeth whitening solution. As a Blaine, MN cosmetic dentist office, we know our patients have a busy schedule, so treatments that take a long time are inconvenient. When you think about it, there are three ways to get your teeth whitening done, and we can help with all of them. First, you can do the teeth whitening yourself, but we recommend that if you are going to do an over-the-counter at-home kit, first come in and get your teeth examined by our cosmetic first. This is to ensure that your teeth are not damaged or infected prior to placing a whitening solution on them. If you prefer, you can also come in and get a teeth whitening kit from us and still do the whitening at home yourself.
The best option for our patients is to get same-day teeth whitening done at our clinic in Blaine, MN 55449. We can do it quickly enough for your smile to look amazing on a job interview, at a wedding, or in your family holiday photos. To schedule your appointment for same-day whitening services, call (763) 237-3371.
---
---
Related Posts
January 1, 2023
Cosmetic dentistry includes a range of services that improve the person's smile by addressing cosmetic imperfections with the teeth, gums, jaw alignment, and more. It is helpful to have a good …
---