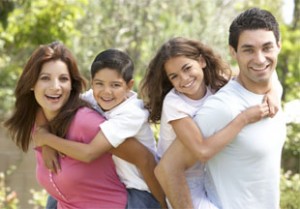 At Arden Dental Associates with Dr. Carlos Campodonico, DDS, we are a family dentist and periodontics office. We use the latest in dental technology, focus on education and are passionate about keeping our patients healthy. Located in Blaine, MN 55449, we know that the best way to prevent periodontal diseases is through preventative dentistry. As such, we have taken a holistic approach to dentistry, which encompasses far more than just curing things like periodontitis and focuses our attention on prevention, rather than just the cure. There are distinct advantages to a periodontics focused, preventative approach to dentistry, both for you and for us. Everyone is more comfortable coming in for routine checkups every six months, where we inspect and clean your teeth. For you, this means you do not have to deal with the challenges and discomfort of tooth decay, periodontal diseases, or other challenges that arise when you do not have proper preventative care. At our Blaine, MN dental office, we keep your teeth safe from these kinds of conditions, the cornerstone of our practice. Any good holistic approach to preventative care starts with education because we believe that the more you know, the better equipped you are to resolve problems before they ever begin. To that end, feel free to call (763) 237-3371 any time that you have a question about your oral health.
We can prevent gum disease.
Periodontal diseases begin with plaque. Plaque is that yellowish substance you will find on your teeth if they have not been cleaned in a while. Plaque is fundamentally a buildup of normal oral bacteria colonizing the teeth and is extremely detrimental when allowed to congregate enough to be visible. When providing periodontics care, Dr. Carlos Campodonico, DDS knows that the best remedy for plaque buildup starts with an adequate brushing of your teeth and following simple rules like the 2-2-2 rule. The 2-2-2 rule states that the best way to prevent periodontitis is to brush your teeth for a minimum of two minutes, at least two times (twice) a day. This works to ensure there is limited plaque accumulation on the teeth. The third "2" indicates the number of times each year you should come into our Blaine, MN dental office. Also, in addition to brushing on a regular schedule for the sufficient amount of time, you should also use floss to get between the teeth and remove any bacteria or food particles that may have accumulated there.
As a standard practice, we will perform a complete examination of your mouth, teeth, and gums when you come in for a bi-annual checkup. This includes a critical screening for oral cancer. Oral cancer has been on the rise among patients in the United States, and as a way to catch it early enough to treat, we are offering our patients oral cancer screenings. Any cancer can be deadly, but if caught sufficiently early, it can be cured, making oral cancer screenings critical to your health. To schedule your screening or a standard dental cleaning, call Arden Dental Associates at (763) 237-3371. Dr. Carlos Campodonico, DDS will be happy to examine and treat you in our Blaine, MN family dentist office.
---
---
Related Posts
June 9, 2021
A preventative dentistry question people commonly have is, "what stains teeth the most?" We will look at some of the foods and beverages that are teeth staining to help you avoid these …
---