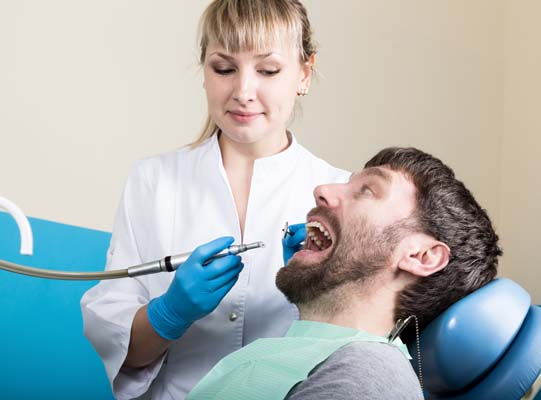 Cosmetic dentistry includes a range of services that improve the person's smile by addressing cosmetic imperfections with the teeth, gums, jaw alignment, and more. It is helpful to have a good understanding of the more common services that are generally offered by cosmetic dentistry practices to determine if treatment is right for your needs.
Common types of cosmetic dentistry services
Every cosmetic dentist offers their own set of services based upon their specialty, education, and experience. However, some of the more common types of cosmetic dentistry services include professional teeth whitening, dental bonding, dental veneers, tooth-colored crowns, gum contouring, orthodontic care, and teeth replacement.
Professional teeth whitening
Professional teeth whitening is perhaps the most common service offered by cosmetic dentists. This is an in-office procedure that involves applying a whitening gel (which typically contains carbamide peroxide or hydrogen peroxide) to the visible surface of teeth. It is entirely non-invasive and takes less than an hour to complete in many cases (although multiple applications could make the treatment procedure take longer).
Dental bonding
Dental bonding, also called composite resin bonding, is used to fix minor imperfections with the visible surface of front teeth, such as teeth chips, cracks, stains, and gaps. Dental bonding involves coating a tooth-colored composite resin material to the surface of teeth and curing it with a special dental light.
Dental veneers
Dental veneers achieve a similar purpose to bonding but are considered a more permanent solution. Veneers are thin layers of porcelain material that are customized to properly fix and improve the shape and appearance of front teeth. Dental veneers are durable and one of the best ways to achieve a beautiful smile.
Dental crowns
Cosmetic dentists often use tooth-colored crowns to fix teeth that are cosmetically imperfect. They can cover an entire tooth on all sides and fix issues such as chips, cracks, and teeth that are worn down due to bruxism. Most commonly, cosmetic dentists use ceramic (tooth-colored) dental crowns.
Gum contouring
Gum contouring involves removing (or in some cases grafting) gum tissue to create a more attractive smile. This is often used to address a gummy smile, which occurs when an excess amount of gum tissue shows while smiling This procedure ensures an ideal amount of the tooth crowns show for a perfect smile.
Orthodontic care
Many dentists also offer orthodontic care as a part of their cosmetic dentistry services. Orthodontic care refers to improving the alignment of teeth and the jawline. The two most common orthodontic services offered by dentists are braces (clear, metal, and lingual) and clear aligners. Orthodontic care can offer cosmetic, oral health, and functional benefits.
Schedule a visit with our cosmetic dentistry team
If you are not happy with your smile and want to find out about the benefits cosmetic dentistry can offer you, then consult with our team and schedule a visit. Our experienced and friendly team can help you personalize your treatment plan to meet your goals in the most convenient and affordable manner possible.
Request an appointment here: https://www.ardendentalassoc.com or call Arden Dental Associates – Carlos Campodonico, DDS at 7632373371 for an appointment in our Blaine office.
Check out what others are saying about our dental services on Yelp: Cosmetic Dentist in Blaine, MN.
---
Related Posts
June 1, 2022
A common problem many people face is having spaces between their teeth that a cosmetic dentist would notice. It looks unsightly and can be embarrassing. A cosmetic or aesthetic dentist can …