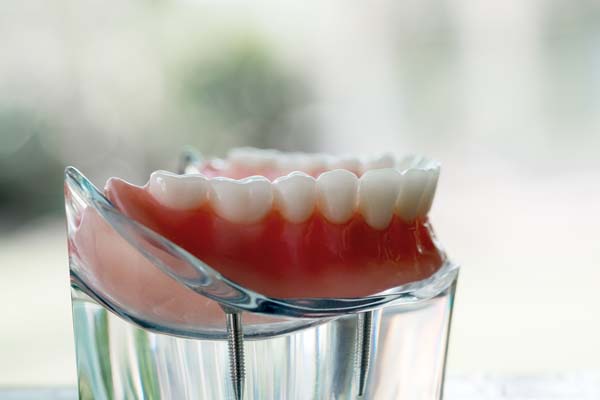 Countless patients around the globe wear dentures, and they will face the need for denture repair at some point. There is no reason to fear needing any repair done on your dentures.
When you first were fitted, your dentist went over the proper care and gave you tips and suggestions on how to keep them looking and feeling great for as long as possible. However, even with the best care, you could still need to have your dentures repaired. Dentures go through a lot and experience everyday wear just like your natural teeth. Always consult with your dentist when you think you require an appointment to check on the stability and function of your dentures.
Common concerns about dentures
Once you receive dentures, they will long as long as possible if you follow your dentist's recommendations and care instructions. There will be times when denture repair is necessary. The good news is most dentures can be repaired, and an entirely new set won't be needed.
Regular relining and rebasing are very common when it comes to dentures. Some patients may not need to have this done for five to seven years, but it could need to be done every two years for some. Be sure to see your dentist every six months so your dentist can determine if any work is needed to make your dentures fit better or be more comfortable in your mouth.
Relining vs. rebasing
There are two ways your dentures can be repaired. The easiest way is a denture relining. This is done by replacing the soft, flexible material that goes around the outside of the base of the dentures.
This simple process requires your dentist to take a new mold of your mouth impression. Once the new mold is dry and in place, the dentures are good to go. In some cases, you may require a more extensive denture repair. This is called rebasing. A patient could use this procedure if the teeth are still in good shape, but the base is heavily cracked or broken beyond repair.
Depending on the exact type of repair your dentures need, you could be without them for a few days up to a few weeks. In the meantime, your dentist will give you a temporary pair of dentures. Regular repair of your dentures is sometimes unavoidable, even with proper care and cleaning. You can also purchase an over-the-counter repair kit. However, this is not recommended. Fixing your dentures on your own may lead to more significant problems down the road.
Talk to your dentist
Always talk to your dentist and let them know any concerns you have with the feel or appearance of your dentures. Keep your routine appointments. Staying in contact with your dentist regularly is key to a long life of healthy oral hygiene. Also, discuss any questions you have about the cost of dentures or their repair with your office staff and dental insurance provider.
Request an appointment here: https://www.ardendentalassoc.com or call Arden Dental Associates – Carlos Campodonico, DDS at (763) 237-3371 for an appointment in our Blaine office.
Check out what others are saying about our dental services on Yelp: Dentures and Partial Dentures in Blaine, MN.
---
Related Posts
August 1, 2022
Millions of Americans and people worldwide have lost a tooth or teeth, many of whom opt to get dentures made. Tooth loss can occur due to an accident or injury, disease …