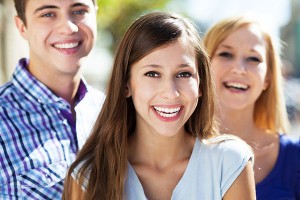 We recommend composite fillings because they support the tooth better than amalgams. Amalgam material stays in the tooth because the preparation must be wider at the bottom, which unnecessarily removes healthy tooth structure. This weakens the tooth. Teeth that have been restored with amalgams over the years become prone to fracturing and typically need crowns.
Composite preparations can be more conservative, preserve the integrity of the tooth and actually strengthen it by bonding to the tooth structure. All of this can prevent or delay the need for a crown.
Insurance companies usually offer better coverage on amalgams than composites. The reason for this is that amalgam fillings are less expensive and cost the insurance companies less money! It is our view, that while you may save in the short run, you lose in the long run.
It will cost you more money and tooth structure to begin the "amalgam journey." We believe that preserving tooth structure with conservative principals and using bonded composites are the right things to do.
---
Related Posts
April 1, 2023
There is no need to panic if you have just found out you have a cavity; the most common treatment approach is to undergo a dental filling procedure. Dental fillings materials …
---