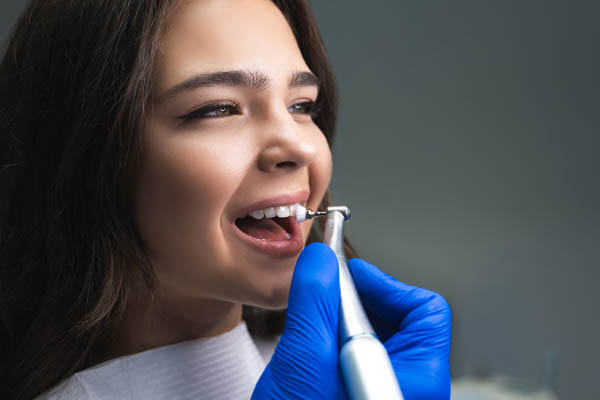 A dental cleaning is an essential part of maintaining good oral health because it removes buildups of plaque and tartar. Additionally, they keep the teeth and gums appearing healthy and strong. Routine dental cleanings are typically done in a general dentistry setting because general dentists are the main point of contact for ensuring good dental care, which includes cleanings and examinations.
Frequently asked questions and answers regarding dental cleanings
Outlined below are common questions and answers about dental cleanings. When curious about dental cleanings, it can be helpful to review the following information.
1. Does a dental cleaning hurt?
Nope! Dental cleanings do not induce any pain, though there may be slight sensitivity during or after. The products used by the hygienist are much stronger than store-bought ones, which makes them great for plaque and tartar removal, but they can make the teeth feel more sensitive.
2. Can a dental cleaning prevent staining?
Yes! While a dental cleaning may not necessarily remove stains, when done regularly, they can help prevent staining from occurring. The products used in a general dentistry office are much stronger than those used at home, which means they are better able to remove the buildup that can cause staining.
How often is a dental cleaning needed?
It is recommended that a dental cleaning be done at least twice a year or every six months. However, in some scenarios, it may be advised to undergo cleanings on a more frequent basis, such as four times a year or every three months. Individuals who are prone to cavities or gum disease may need or want to undergo frequent dental cleanings as a preventive measure.
What happens during a dental cleaning?
During a dental cleaning, the general dentist and hygienist will floss, brush and polish the teeth to remove plaque and tartar, which helps encourage good oral health. Additionally, these measures are done in order to improve the appearance of the teeth, as both plaque and tartar can cause visible build-up and staining.
How long does a dental cleaning take?
A dental cleaning at a general dentistry practice will likely take around an hour. Individuals who undergo dental cleanings twice a year may also have an examination, fluoride application and X-rays taken, which can make the appointment take longer. However, generally speaking, the appointment should not extend past 90 minutes. Those who get dental cleanings frequently should expect their appointment to only take 45 minutes, with one appointment taking up to 90 minutes to account for the other components.
Find out more about dental cleanings!
When looking for more information on dental cleanings, it can be helpful to consult directly with a general dentist. Further questions can be answered, and an evaluation can be done in order to determine if and how often a dental cleaning is necessary. Reach out today to learn more or to get started with an appointment.
Request an appointment here: https://www.ardendentalassoc.com or call Arden Dental Associates – Carlos Campodonico, DDS at (763) 237-3371 for an appointment in our Blaine office.
Check out what others are saying about our dental services on Yelp: Dental Cleaning in Blaine, MN.
---
Related Posts
March 1, 2023
Getting a dental cleaning twice a year goes a long way toward preventing tooth decay. It is a procedure involving the removal of plaque and tartar from tooth surfaces. Plaque is …