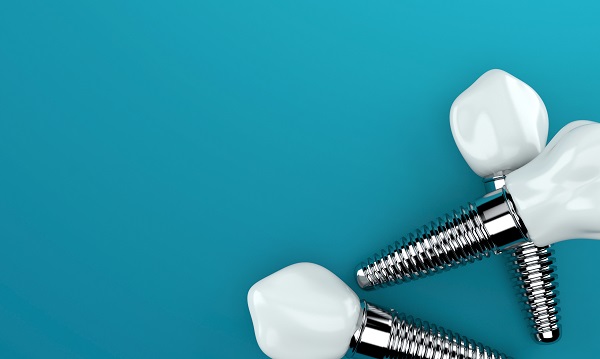 Dental implants are easy to care for at home and with regular visits with your general dentist. You can ensure your dental implants last for as long as possible by understanding useful tips for caring for your new teeth and periodontal health at home through good oral care and smart dietary and lifestyle choices.
Tips to help you care for your dental implants long-term
Dental implants can last for more than two decades when cared for properly. You can get the most out of your dental implants by cleaning your teeth regularly, taking care of your periodontal health, reducing the consumption of foods that are high in carbohydrates and visiting the dentist for regular check-ups.
Clean your teeth regularly
Dental implants are permanently fixed in the mouth. Since they are not removable, you can clean them the same way you would natural teeth. This starts with brushing several times a day, ensuring you reach all areas of teeth and gently brushing over the gums, cheeks and tongue. Ideally, using a soft-bristle toothbrush (preferably electric) is encouraged as well. Flossing and mouthwash use are also important when keeping the mouth clean while wearing dental implants.
Take care of your gum health
Periodontal health is essential to long-lasting dental implants. If periodontitis (gum disease) or bone loss occurs, then the implant may be at risk of failure. To keep the gums healthy, floss to remove food between teeth and along the gum line and use mouthwash as directed by the general dentist. An oral irrigator is also helpful in removing plaque and bacteria on the gums and gum line. Regular dental visits (see below) can also prevent the onset of gingivitis or periodontitis.
Make smart dietary decisions
One major benefit of dental implants is that there are fewer food restrictions. For the most part, patients are free to eat as they desire. However, it is important to understand and consider how certain foods affect oral health. Foods that are high in sugar, starch and certain other carbohydrates may increase the risk of gum disease. Also, some sticky and hard foods increase the risk of damaging the replacement teeth. Be sure to make smart decisions and reduce the consumption of foods and drinks that are high in sugar and other carbohydrates when protecting your dental implants and oral health in general.
Visit the dentist frequently
The majority of oral care takes place at home. However, it is also important to visit the dentist frequently for regular check-ups. This ensures any potential concerns with your dental implants or periodontal health are detected early, which often reduces the invasiveness and cost of treatment to deal with oral health concerns. The dentist can also provide more insights on how to care for dental implants during each visit.
Call our dental implants team today to start the process
The dental implants process begins with a consultation visit. Our dental practice can help you through the dental implants process, ensuring you are comfortable every step of the way and have all of your questions answered.
Are you considering dental implants in the Blaine area? Get more information at https://www.ardendentalassoc.com.
Check out what others are saying about our dental services on Yelp: Dental Implants in Blaine, MN.
---
Related Posts
May 1, 2023
Dental implants are titanium posts placed into the jawbone to serve as the roots of replacement teeth. They are often the most highly recommended teeth replacement solution due to the unique …