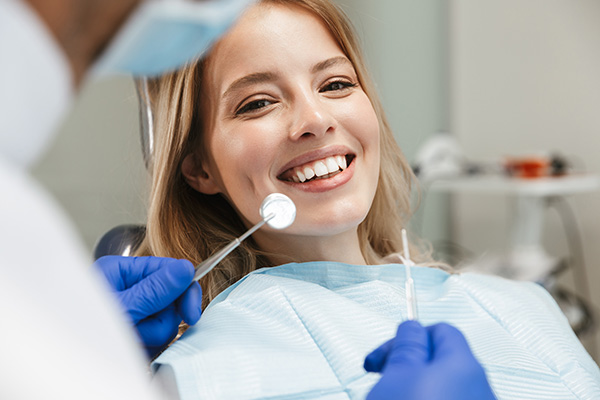 While many people believe that at-home oral hygiene is enough to maintain good oral health, regular dental cleaning appointments are actually crucial. Without regular dental cleanings, the teeth and gums are susceptible to infection and decay, both of which can be detrimental to their oral and overall health.
General dentists recommend dental cleaning appointments twice a year to ensure optimal oral health. In some scenarios, these appointments may be advised on a more frequent basis, such as every three months. Those who are susceptible to gum disease or cavities should consider this frequency for dental cleanings.
While it is recommended to get a dental cleaning twice a year, not everyone does so, which can lead to problems. Aside from bad oral health, skipping cleanings can lead to anxiety in those who have not visited the dentist in a while. Thankfully, the appointments are simple and pain-free. Keep reading to find out more about what to expect during a dental cleaning appointment.
Dental cleaning expectations
Outlined below are a few things to expect from a regular dental cleaning appointment. This information can be reviewed when trying to properly prepare for an upcoming appointment.
Teeth cleaning
The main part of a dental cleaning is for the teeth to be cleaned and polished. Both the front and back of each tooth will be scrubbed using a high-grade professional toothpaste and an electronic toothbrush, both of which help to remove plaque and tartar that may have formed.
Flossing
Another thing to expect during a regular dental cleaning is for the general dentist or hygienist to floss in between each tooth. Flossing is essential in removing built-up food. It keeps the gums healthy, as well as the teeth. During a dental cleaning, traditional floss is typically used. A lot of people skip flossing each day, which is why it is so important for the dental professional to do during a dental cleaning appointment.
Fluoride application
Fluoride application is an essential part of a dental cleaning appointment. Fluoride remineralizes the enamel of the teeth, which helps to fight off decay and strengthen the teeth altogether. Fluoride is administered after the dental cleaning via gel or liquid trays. The patient has to close their mouth for no more than five minutes and let the solution soak the teeth.
Examination and possible x-rays
Most regular dental cleaning appointments involve an examination and sometimes x-rays. Typically, regular dental cleanings are done twice a year, in which the general dentist will also perform an examination of the gums and the teeth. X-rays, on the other hand, are done once a year, which will likely be combined with one of the dental cleaning appointments.
Get scheduled for a dental cleaning
Looking for more information on dental cleanings? It is best to consult directly with a general dentist to find out more. The patient can ask questions and go over any concerns, which can be helpful when preparing for an appointment. Reach out today to get scheduled for a dental cleaning or to find out more.
Request an appointment here: https://www.ardendentalassoc.com or call Arden Dental Associates – Carlos Campodonico, DDS at (763) 237-3371 for an appointment in our Blaine office.
Check out what others are saying about our dental services on Yelp: Dental Cleaning in Blaine, MN.
---
Related Posts
March 1, 2023
Getting a dental cleaning twice a year goes a long way toward preventing tooth decay. It is a procedure involving the removal of plaque and tartar from tooth surfaces. Plaque is …