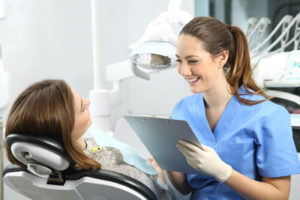 Today's artificial teeth look incredibly realistic. Just as important is the fact that they function like regular teeth and stand the test of time. A damaged tooth to the point that extraction is necessary requires treatment as soon as possible. The only question is what type of an artificial tooth is ideal for your unique mouth. By visiting our dental office, you will find there are several different options available for artificial teeth.
Tooth replacement options
Dental Implants
Dental implants are best known as artificial teeth roots that deeply connect to the jaw bone through a process known as osseointegration. We can add a crown to the dental implant to serve as the surface upon which chewing occurs. It is also possible to add full sets of dentures and fixed bridges to implant fixtures as well. Dental implants can replace several teeth or a single tooth.
These artificial teeth have a rigid biocompatible material that only takes a fairly simple procedure to position properly. Once the initial healing period passes, the implant will remain within the bone to the point that it can connect to a diminutive metal post that supports the crown. The bone actually grows right onto the implant, creating a robust bond that bolsters the implant's strength.
Bridges
Bridges will fill those annoying spaces where one or several teeth are missing. This tooth replacement option restores bite and allows to preserve the natural shape of the face. Bridges span the entirety of the space where teeth are no longer positioned. Your bridge has the potential to last upwards of a decade and a half or longer.
Bridges connect to surrounding natural teeth or dental implants. The replacement tooth, known as the pontic, connects to the crown that is atop the abutment. Patients can select the material they desire for the bridge. We will also consider the position of the missing tooth, aesthetics and functionality.
All in all, three types of dental bridges exist. The traditional variety requires the use of a crown on the side of the missing tooth. Maryland bonded bridges consist of porcelain or plastic and supported with a metal framework. Metal along the sides of the bridge known to the teeth. Finally, cantilever bridges are ideal when an adjacent tooth is on one side of the open space.
Dentures
Dentures are oral health appliances that replace natural teeth. All of the teeth can be replaced with a full denture or a partial denture can be used to replace some of the teeth. The difference between removable dentures and bridges and crowns is the patient can remove this oral health device whenever necessary. Alternatively, we permanently affix bridges and crown to the teeth.
Meet with your dentist so he or she can analyze your teeth, gums and the soft tissues within your mouth to determine if a partial denture is ideal. A radiograph might be necessary to gauge teeth health and determine if there is ample support for a denture. If you select dentures for your fake teeth, be sure to meet with your dentist at least once every six months to check them for potential trouble spots.
So…
For more information or to schedule an appointment with Arden Dental Associates – Carlos Campodonico, DDS,request an appointment in our Blaine dental office here: https://www.ardendentalassoc.com. Or call us at (763) 237-3371.
---
Related Posts
April 3, 2017
Give us a call if you are interested in options for replacing missing teeth and repair your smile today. We offer several options for replacing missing teeth at our office. We will examine your teeth to …
---